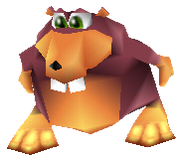 Gnawty is a Beaver that is found in Click Clock Wood. He is found in every season. He has trouble getting into his house in the Spring, and requests help from Banjo and Kazooie. The only way you can help Gnawty is if you open up the Summer area and smash the boulder that is blocking the entrance of his house, cause you can't smash it in the Spring, due to the water. Once you smash the boulder, you cannot go inside of Gnawty's house, because of the drought. When you open up the Fall area, you can swim into his house and collect the Jiggy. In the Winter, Banjo can swim in the frozen pond to enter Gnawty's house and obtain an Empty Honeycomb.
Ad blocker interference detected!
Wikia is a free-to-use site that makes money from advertising. We have a modified experience for viewers using ad blockers

Wikia is not accessible if you've made further modifications. Remove the custom ad blocker rule(s) and the page will load as expected.