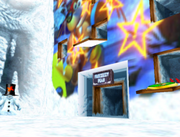 As they continue their journey to save Tooty, Banjo and Kazooie finally finish the swampy wetlands and come across a snowy-christmas world, but everyone calls it Freezeezy Peak, ruled by Snowmen, Polar Bears, and Walruses. Freezeezy Peak is the 5th world in Banjo-Kazooie.
Points of Interest
The Giant Snowman
The Village
Wozza's Cave
Boggy's Igloo
Christmas Tree
Ice Key's Cave
Moves Learned
Beak Bomb (Located by the stacked presents)
Jiggies
1.) Beat Boggy's sled race as the Walrus
2.) Beat Boggy's sled race as Banjo
3.) Help the Twinklies get to their tree
4.) Talk to Wozza as a Walrus
5.) Beak Bomb the Sir Slush's hats
6.) Beak Bomb the Giant Snowman's buttons
7.) Find all 3 presents and give them to Boggy's kids
8.) Sled into Boggy
9.) Inside the Giant Snowman's pipe
10.) Find all 5 jinjos
Jinjos
Blue: On top of the Giant Snowman's broom
Pink: On top of the stacked presents near Bottles
Green: Behind the house that has a fly pad on it's chimney
Orange: Inside Wozza's cave in a small alcove
Yellow: Inside Mumbo's Skull on the shelves
Extra Honeycombs
Under the Sir Slush on the island between the village and the entrance
Inside a room in Wozza's cave accessed by a narrow passage in the icy pool
Grunty Switch
Underneath the Sir Slush between the huge snowman and the Stacked Presents. To uncover it, you must use the Beak Bomb while trying to aim at the red "X" on his top hat and dodge snowballs
Ad blocker interference detected!
Wikia is a free-to-use site that makes money from advertising. We have a modified experience for viewers using ad blockers

Wikia is not accessible if you've made further modifications. Remove the custom ad blocker rule(s) and the page will load as expected.