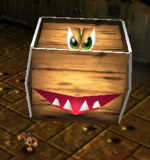 Boss Boom Box is a very large Boom Box that resides in a large compartment of the Rusty Bucket. He guards a Jiggy (although, he didn't want it really), so Banjo and Kazooie have to beat him up.
To access Boss Boom Box's room, a large box of TNT must be dropped off the stern-side crane in Rusty Bucket Bay, which explodes and destroys a large set of doors in the floor. Banjo and Kazooie enter the room below to find Boss Boom Box, who leaps up from the floor once approached and hops around. Despite being a large Boom Box, Boss Boom Box contains no explosives, so touching him only does damage. Once hit a decent amount of times, the large box splits into 2 smaller boxes. This continues, with each box having less health and more speed, through 4 box sizes. Once all 8 normal-sized Boom Boxes (that dont explode) are destroyed, the last one drops the Jiggy. A total of 15 boxes are destroyed in the battle.
Boss Boom Box appears as one of the Timed Challenges in Grunty's Furnace Fun. Banjo and Kazooie are given 75 seconds to beat him once more.
There is a glitch used by speedrunners to get Boss Boom Box's Jiggy without having to fight him (since even using the Wonderwing, which destroys each box in one hit, takes a bit of time). If Boss Boom Box is hit by a Blue Egg while still laying on the ground, he will forget to grab the Jiggy when he gets up. It's then simple to grab the Jiggy and leave the room (since the room is not sealed for the battle).
Ad blocker interference detected!
Wikia is a free-to-use site that makes money from advertising. We have a modified experience for viewers using ad blockers

Wikia is not accessible if you've made further modifications. Remove the custom ad blocker rule(s) and the page will load as expected.